One of my favorite animes as of late has been Spy x Family, which is super wholesome and cute so I totally understand why there has been a ton of hype around it. Spy x Family follows a spy named Loid who has to establish a family to execute a mission. He finds a girl to adopt to be his daughter not knowing that she is a telepath, and asks a woman to pretend to be in a marriage with him, not knowing she is a highly-skilled assassin. 
Spy x Family Merch
With all the hype around this new anime, there has been a ton of merch that has already been released or is slated to be released in the next year and I am super excited to get my hands on some of this super cute merch. If you are wondering where you can find some Spy x Family merch, take a look below for my favorite places to get Spy x Family merch. 
Crunchy Roll Store
It is not surprising that the Crunchy Roll Store carries Spy x Family merch, after all, Crunchy Roll is the destination if you want to watch the English dub of Spy x Family. Not only that, you can also watch it dubbed in German, French, Portuguese, Russian, and Spanish on Crunchy Roll as well. 
The Crunchy Roll Store has been doing some amazing pre-orders for Spy x Family merch with quite a few pre-orders already closed. This is definitely a place you are going to want to keep an eye on if you are looking for some of the latest Spyx Family merch. 
They currently have preorders for those super popular acrylic stands of all three characters Loid, Yor, and Anya, but these preorders close soon on June 28th so if you are interested, you should definitely hurry over to the Crunchy Roll Store. 
AmiAmi
The next place that I would go look for Spy x Family Merch at is AmiAmi. This website has a ton of great merch from all kinds of animes and they are known to have an extensive selection of figurines for you to pick from.
If you are looking for Spy x Family merch, this is a great place to look as they have A LOT. You can find everything from figurines to keychains, notebooks, pens, towels, and pins. There really is no short of different Spy x Family things you can get from AmiAmi, most of the stuff is currently on preorder so you should take some time to browse through the 26 pages of Spy x Family merch that is available. 
Don't worry about the prices that you see, AmiAmi is a global store you can pay using USD, and once you click on an item that you are interested in, you will see the converted approximate USD cost of the item. 
If you are ever in Japan, they do have physical locations in Tokyo but don't expect them to carry all of the merch you see available on the website.
UNIQLO x Spy x Family Collab
Starting on June 3, 2022, Japanese clothing retailer UNIQLO will have four Spy x Family shirts available for purchase as a part of a collaboration. Two of the shirts feature the entire family, one of them has just Loid or more like a silhouette of Loid, and the last one is Anya hiding in the pocket. 
Out of the four shirts, I will have to say my absolute favorite one is the yellow shirt with Anya hiding in the pocket because when you pull the pocket down, it reveals Anya's smug face that debuted in episode 6. The Japanese Uniqlo website has a whole page dedicated to the shirts in this collaboration. 
The US Uniqlo website recently updated its website and these items will be released to the US on July 7th
Gamestop
If you missed out on the figurine preorders from Crunchy Roll Store, another place where you will find those figurines available for preorder currently is over at Gamestop. Gamestop has gotten more into geek culture over the years and since their take over of ThinkGeek they have been offering more and more anime merch. 
They have Spy x Family figurines from Banpresto as well as Bandai Figurarts mini-figures of Loid, Yor, and Anya all currently available for preorder and as of this writing none of them have been closed or sold out yet, so if you missed the other preorders there is still an opportunity to preorder them at Gamestop.
Aitai Kuji
Another one of my favorite places to find Spy x Family merch is through Aitai Kuji. Here you can find authentic japanese anime merchandise right from Japan. This amazing website was created by a fan to help other fans around the world be able to get all of this awesome authentic anime merch. 
Aitai Kuji has a great selection of Spy x Family merch and even has a banner featuring Spy x Family right on their home page. They currently have some super awesome merch for Spy x Family that includes some stickers, pins, acrylic stands, charms and much more. They also have quite a good selection of figurines as well on their website.
Entertainment Earth
Entertainment Earth has become one of the internet's largest retailers when it comes to collectibles, but that doesn't mean that everything they sell is super expensive, they also have a good amount of other merchandise as well. This includes toys gift items, licensed products, collectibles, and memorabilia. 
This is definitely a place you want to keep an eye on if you are a fan of figurines. They have been doing a ton of pre-orders for different Spy x Family figurines and a lot of them are already sold out. It does seem that they are bringing back some of the items for multiple pre-orders so if there is something you want you should definitely check back on their website periodically to see if any new pre-orders are listed.
Final Thoughts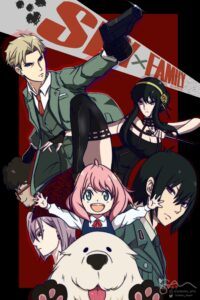 That is all I have for now! There are many items from these retailers that are sold out but they are constantly adding preorders so if you don't find something you like the first time you land on these websites you should definitely check back often to see if they added anything new.
You should also check back here in the near future as there may be some new Spy x Family chibi stickers in the Yoshiko Arts shop soon. Thanks for reading and if you want to check out my art portfolio, follow me on Instagram @Yoshiko_Arts.